It's gloomy, and something that really cheers me up when it's all grey and yuck outside is a cosy throw to cwtch up in. Here is what I have been lusting after this week.
1. National Trust Grey and White Polka Dot Throw £52.50 (was £75). Grey is not inviting outside but it's lovely inside, and this gorgeous lambswool throw is lovely on both sides.
3. Ikea Ursula Throw £16. A great bargain choice. I have a real thing about cable knit and this 100% cotton (machine washable at 40C) bleached throw is really, really appealing. It also comes in beige.
4. White Company 100% Cashmere throw £500 (yep, £500!) Talk about from one end of the scale to the other - £16 for a cotton Ikea throw or £500 for a White Company cashmere one - slightly bigger, but not much, and dry clean only. I know which one I yearn for, and which I'd actually buy!
5.
Belinda Davies Vintage Inspired
Charlie Eiderdown £235. If you love the look of vintage eiderdown quilts and French boutis you'll love Belinda Davies. I love vintage and am no stranger to second hand, but it's really difficult to clean vintage eiderdowns properly so the appeal of a fresh new one with the appeal of an vintage eiderdown is pretty irresistible.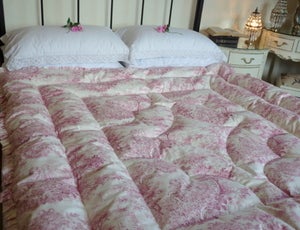 If you like this, why not stay up to date easily by following via Google or bloglovin', and thanks for reading!