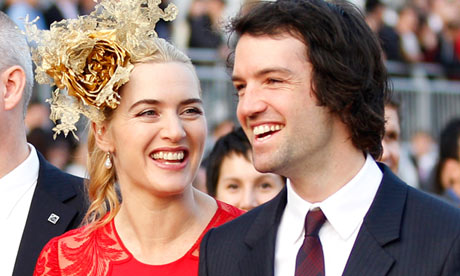 Congratulations to Kate Winslet and Ned Rocknroll who have recently got married. It's her third trip down the aisle and I wish that she wasn't so secretive about it because I would love to see her wedding dress. Kate is my only girl crush - I would be delighted if I looked like her. I am fairly sure I've posted about my admiration for the way she always looks spectacular on the red-carpet and pretty stylish day-to-day as well. I reckon she wore something in heavy oyster silk and 1930s inspired like the woman in this
gorgeous 1930s inspired wedding
or this stunning original
Photo from http://www.weddingblogdesigner.com






I'm 18 months older than Kate, married at 25 and have just celebrated my 13th wedding anniversary, so to have been married 3 times by now seems a little exhausting, however I sincerely wish her well. Like Elizabeth Taylor (8 times), Zsa Zsa Gabor (9 times), Mickey Rooney (8 times), and countless others with multiple marriages under their belt I admire their romantic enthusiasm. A bad marriage could (ironically) put someone off matrimony for life but Kate and others jump in with both feet, believing that a failed marriage or a romance that has run its course doesn't mean they are unlovable or undeserving of happiness, just that they are with the wrong person.
Kate has been getting a fair amount of stick in readers' comments, as does Ulrika Jonsson (4 children with 4 different fathers) at times, with people calling them stupid, selfish (not thinking of the kids), or weak for constantly needing a man. I do not believe they are any of these things. Their decisions have not been easy and both keep their children out of the limelight therefore showing consideration for their childrens' wellbeing. I think Kate and her ilk are optimistic and I'd like that, should my marriage end, I have their hope, openness to love and enthusiasm that will allow me to find another partner.
What are your thoughts? Leave me a comment and if you know what her dress looked like please share!