As the dawn of the first day of February half term forced its way through the clouds, I decided that a trip to Puzzlewood was in order. We hadn't been a for a while, but since Puzzlewood has remained largely unchanged for hundreds of years I didn't think that would matter. It was a cold and damp day but we needed to get the four year out of the house to save my sanity, so an excursion was in order.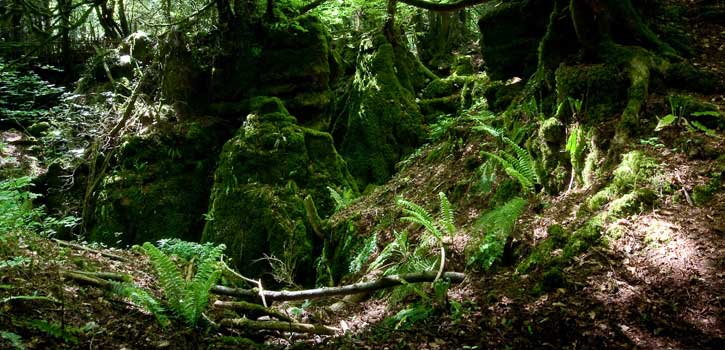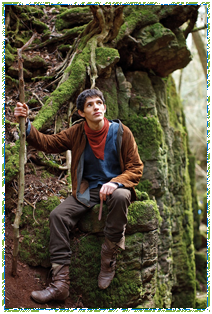 Colin Morgan Merlin looking thoughtfully magic
The woods have around a mile of paths laid out. It's not wheelchair or buggy friendly, with sets of steps here and there. If you have a little 'un, be prepared to carry them or use a backpack. It can get very muddy and as it is quite shaded, wellies are probably a sensible option year 'round. Unfortunately my son was a bit scared of the atmosphere and didn't enjoy exploring. There is a list of things to look out for as you enter, a little like a treasure hunt, which held his interest for a bit.
Found the perfect whacking walking stick
As well as the woods to explore, Puzzlewood has a small play area with climbing frames and a willow maze; a hay barn to play in and an indoor maze. It's not massive, but it was enough to keep my four year old happy. He especially loved throwing hay around in the barn. There are also some animals including a goat, which to my shame my son pointed at and asked "What's that?" In the main season they have pony rides.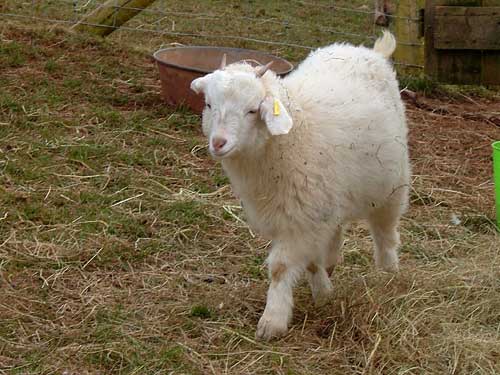 Since were were last there, Puzzlewood has extended its picnic area and also renovated a lovely stone building that is used as a cafe, with lots of local art on the walls. The selection at the cafe is limited to cakes/panninis type food but it is tasty, fresh, and reasonably priced. There are a dozen or so outdoor tables if you want to bring your own food. The toilets are currently in a demountable building, but a new block was being built and these will be open soon. There is plenty of free parking.
Check the website for opening times
. During Nov-Dec and Feb-Mar it's only open on weekends, but it's open daily from Apr to Oct. It costs £6 for adults and £4.50 for children, and £20 for a family ticket. Season tickets are double that price. Under 4s go in for free. It's not a full day out, but it's at least a few hours plus lunch. If you're in the area it's definitely worth a visit. It's around 5 miles from Monmouth and easily accessible by car, though not by public transport.
Puzzlewood has cottages on site and if you're considering a holiday you could do a lot worse than stay here. There is a lot to explore in the area, which is crammed to bursting with castles (it's borderland country), beautiful mountains and rivers, and lots of excellent food and places to eat. Have a look at www.wyedeantourism.co.uk for more information.