Things I have seen lately that I really like include:
Very Boden-esque robe from
Peacocks
for boys up to 6 years - £8
Rhod Gilbert's new tour The Man With The Flaming Batternburg Tattoo. I've got my ticket!
Pre-Christmas sales. Ok, not a great sign for the economy that stores are already having of 25-50% off good stuff and not summer tat from 2 years ago. For example: 30% off everything in Laura Ashley plus free delivery.
Arthur Christmas. I took my 4 year old and he didn't need to go to the toilet during it at all, which is the ultimate seal of approval. I also loved it and will probably see it again before Christmas. It's lovely and festive family friendly film and not annoying at all.
You know I love my SlimPod, well Thinking Slimmer have released a FREE Christamas one (worth £29.99) to help combat the seasonal urge to overindulge. Like them on Facebook
here
and try the free SlimPod
here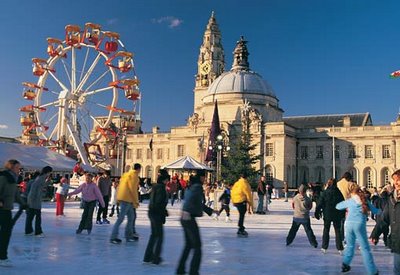 Outdoor ice skating
A friend and I took our kids to Cardiff's Winter Wonderland other weekend and it was so much fun. Despite having never been before, the loved it. I impressed myself my not falling over even though it's been 25 years or so since I last skated. Like riding a bike, I guess! We all want to go again.