Shiny! Colourful foil wrapped Easter Eggs always make me smile.
Are you heading into the weekend with a tonne of Easter chocolate still waiting to be consumed? If you've officially hit your limit and want to give those leftover Easter Eggs the heave-ho, why not try some of these chocolate recipes.
1. Cherry Ripe Slice Recipe - One Pot Chef
This beauty uses both white and dark chocolate. No cooking required, so it's a child-friendly recipe if you help them melt the chocolate. This video from One Pot Chef is less than five minutes long and, like him, you'll probably want some "alone time" to enjoy this Cherry Ripe Slice.
2. Chocolate Pots with Orange and Cardamom - The Guardian
You'll find the recipe on
this page
, along with some other ones you might want to try. I don't think you can ever have too many good chocolate recipes!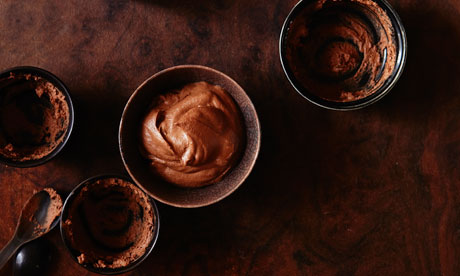 Chocolate pots with orange and cardamom. Photograph: Yuki Sugiura for the Guardian
3. Chocolate Covered Fruit and Nuts
Ok, not a recipe as such, but satisfy your parental concerns by dipping fruit and Nuts in melted chocolate. Choose your favourite nut, or dip strawberries, slices of kiwi, and chunks of banana in chocolate and let them set (try swirling white and milk choc before dipping for a cool effect).
Image courtesy of Luigi Diamanti / FreeDigitalPhotos.net
4. Chocolate Fondue
Unleash your inner Margot Leadbetter or Fanny Craddock with this sweet '70s classic. I normally make a dipping sauce simply by melting chocolate with cream, but the
BBC Good Food website
recommends also adding butter and milk.
5. Rocky Road Crunch Bars - Nigella Lawson
Now, Nigella calls for "best quality chocolate" in her recipe, but I am willing to bet melted chocolate eggs would be acceptable in a pinch. You can find the
full recipe
on Nigella.com.
Via Nigella.com
6. Chocolate Rice Crispie Bars
Finally I'm going to suggest you add melted chocolate to your usual rice crispie bar recipe (if you don't have one, there are lots to try on the
Kellogg's Rice Krispies website
.
If you have a favourite way of using up your remaining Easter eggs, why not post a link to the recipe in the comments.
Have a great weekend!